Dirt & Gravel Work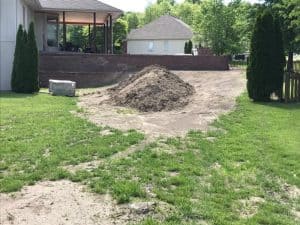 Dirt and gravel are the bases upon which all things are built. These two things you may not think of very much, but you should. If you don't have a good base, there is no point of going any further with your project.
The planning stage of your project is the most important. Set an overall goal you want to achieve. If you have future projects in mind, do not forget to add those to your plan as well. Having a well thought out plan can save you time and money.
Dirt Work
When you think about it, almost every building project requires the movement of dirt. This could be a project at your residence or a project at your commercial business. How the dirt work is performed, affects the overall outcome of the project.
Here are some things you need to consider when having dirt work performed. Have you considered what type of dirt is on your property, or the type of dirt you may need to be brought in for your project? Have you considered if you need compaction of the soil for your project? Have you planned for drainage and water runoff? Drainage and water runoff are the most important to think about.
Gravel Work
You would think that gravel is just gravel, and just putting down any type would be fine. When your project involves the use of gravel there are some things to consider. The most important question with gravel is, what type of base are you creating? Is your base for a driveway? You will need different sizes of gravel in layers to construct a driveway. If you are creating the base for a concrete pad. The size and type of gravel will be different from that of the driveway base.
If you are planning a project and you need some "extra help" with your dirt and gravel work, contact us for an estimate. We do light to medium residential and commercial dirt and gravel work.
We only take on as many customers as we can handle. We never sacrifice quality for quantity.
Dirt and Gravel Work Services
Light demolition, clearing, and excavation
Fill and topsoil hauling
Leveling for building sites
Backfill and Finish grading
Trenching
Auguring
Compaction
Preparation of topsoil for sod installation
Gravel hauling and spreading
Gravel driveway construction and maintenance