Lawn Care & Landscape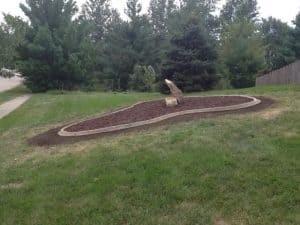 Spring is the time of year we all look forward to. The days are getting noticeably longer and the temperature is warming up. The trees are starting to bloom and the grass is turning green.
Have you been thinking about the type of care or improvements you want for your lawn or landscape this spring? Planning your lawn care needs and landscape projects in late winter to early spring will give you time to select the lawn care or landscape company you want.
Lawn Care
Would hiring a company to perform some of your lawn care help you? Perhaps you want all of your lawn care done for you. Then you would have more time this summer for activities you want to do. We offer several services that can help you with the maintenance and improvement of your lawn.
Our lawn care service is done on an as-needed basis. This allows us to keep your lawn looking it's best, and also keeps it healthy. We constantly monitor the weather and your property to determine if the frequency of cutting needs to increase or decrease. We are here to help you have the lawn you want. We never sacrifice quality for quantity.
This is what we include with our Lawn Care service:
Cut and trim all areas of the property
Edging of areas as needed
Blowing of areas where debris from cutting has landed
Additional Lawn care services we perform:
Spring and Fall clean up
Spring and Fall core aeration
Fertilizer application
Overseeding
Trimming and pruning of bushes and shrubs
Light tree trimming
Landscaping
We offer services that can help you with all or part of the landscape project you have been thinking about. Do you need some advice on the planning of your project? We can help you. Already have your plan? We can provide the services that make your plan a reality. We want you to enjoy and take pride in your property.
Landscape services:
Installation of new landscape beds
Renovation or removal of existing landscape beds
Landscape bed redefining of the natural edge
Flower planting
Bush and shrub planting
Application of mulch
Small to medium sod installation
Tree planting
Small to medium retaining walls and tree rings
Spring and Fall Clean Up Service
We offer both Spring and Fall lawn and landscape clean up. A spring clean up will get your lawn and landscape ready to look it's best for summer. We will take care of what the winter season has left behind. A clean up in the fall will get your lawn and landscape ready for the winter months. A good Fall clean up is an important step in the care of your lawn. You want your grass to go dormant, not die out.
This is what we include with a Spring or Fall clean up:
Leaf service
Pick up and removal of debris in the lawn
Cleaning of debris out of planting beds and landscape
Blowing off the hard surfaces where debris has accumulated
Contact us for an estimate if you are interested in hiring a company to give you the "extra help" you need for your Lawn Care & Landscape.
We are based out of Kearney, Mo., and it gives us great satisfaction, helping customers in our community to create the curb appeal they want for their property.
We offer residential and commercial services. We only take on as many customers as we can handle. We never sacrifice quality for quantity.